Book your boat ticket to Les Saintes
Discovering Les Saintes is a unique experience. Choosing a boat as a means of transport is the best way to see the beauty of the landscapes which separate the famous islands of Guadeloupe and Martinique. A ferry trip has it all. There's no rush to get to your destination because your holiday starts on board the ship. Everything you see will remain etched in your memory forever. You can share this adventure with your family and friends, as the boats can take several people at a time. How will your journey play out? Which shipping company to choose?
Reasons to choose Les Saintes as a destination
The islands of Les Saintes are a favorite with nature lovers. This idyllic destination is an integral part of the Guadeloupe archipelago. The beauty of the beaches on these islands will leave you speechless. The clear, transparent waters of Les Saintes allow you to admire a diverse range of marine life.
This archipelago is located about 15 km off the southern coast of Basse Terre, less than an hour by boat from Guadeloupe. A real little corner of paradise, this destination is made up of 9 islets, 7 of which are rocky and uninhabited. The remaining two are inhabited and frequented by tourists. These are Terre de Haut and Terre de Bas. The islands are known for their heavenly beaches. The gentle way of life which reigns there may even encourage you to extend your stay.
Classified by UNESCO, the bay of Les Saintes is considered to be one of the most beautiful in the world. Marked by history, the islands of Les Saintes were discovered by Christopher Columbus in November 1493. You can find out more about this when you get there. This is one of the reasons to go there if you're a history buff. To visit Les Saintes is to walk its streets, admire its landscapes, bathe in its waters and taste the best seafood there is. This action-packed adventure can be done as a couple or in a group if you plan to explore the islands with your loved ones. Travelling by boat is an excellent way to discover Les Saintes from a better angle.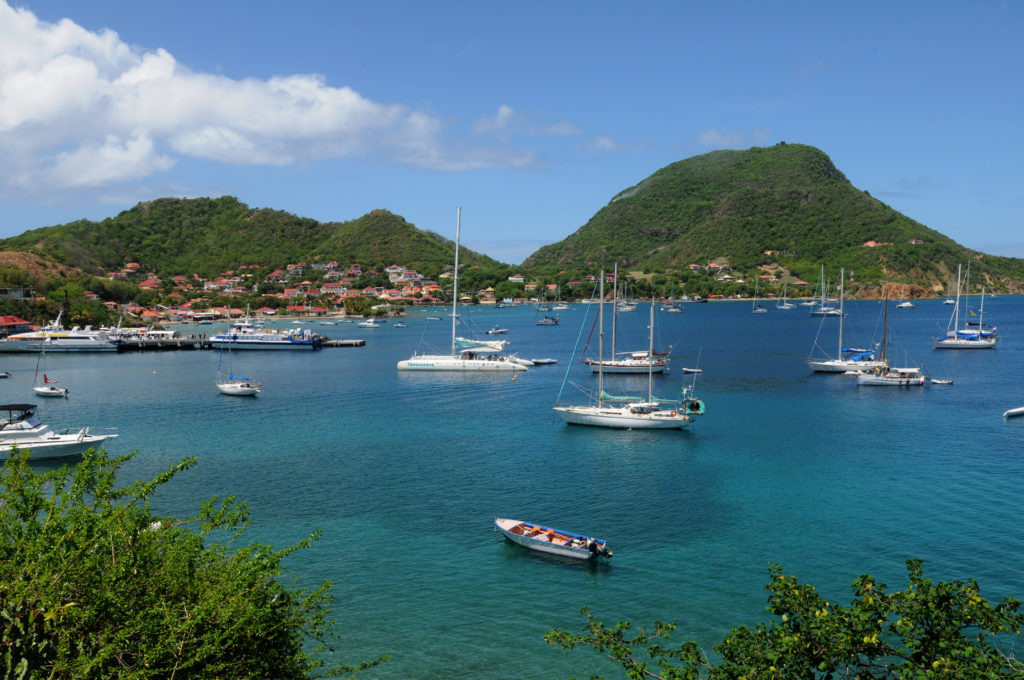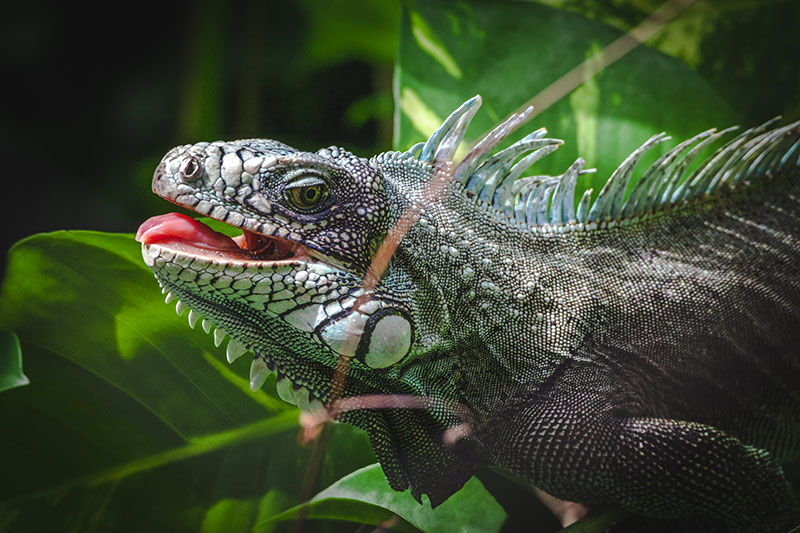 Fares for boat tickets to Les Saintes
The company L'Express des îles offers a range of fares adapted to the constraints and wishes of travelers, whether you're leaving from Guadeloupe or Martinique.
If you're flexible on your dates, choose our TOUPITI fare which guarantees you the best rate on the market!
All our fares include 1 piece of hold baggage of 25 kg per person. You can even add an extra piece of hold baggage weighing 25 kg if you need to, at a cost of €20 per item.
Departure from Pointe-à-Pitre at 08.00 / Arrival at 09.00
Return from Terre-de-Haut at 17.30 / Arrival in Pointe-à-Pitre at 18.30
This is the longest stopover offered in Les Saintes, which allows you to fully enjoy this paradise island.
ZEN
Changeable, non-refundable
FLEX
Changeable and refundable
PASS 2 ÎLES
Thursday and Saturday
From Martinique, this is the only way to travel to Terre-de-Haut without passing through Guadeloupe.
Departure from Fort-de-France at 14.00 / Arrival in Les Saintes at Terre-de-Haut at 17.15
Departure from Terre-de-Haut to Fort-de-France 09.15 / Arrival FDF 12.30
TOUPITI
Thursday and Saturday
ZEN
Changeable, non-refundable
FLEX
Changeable and refundable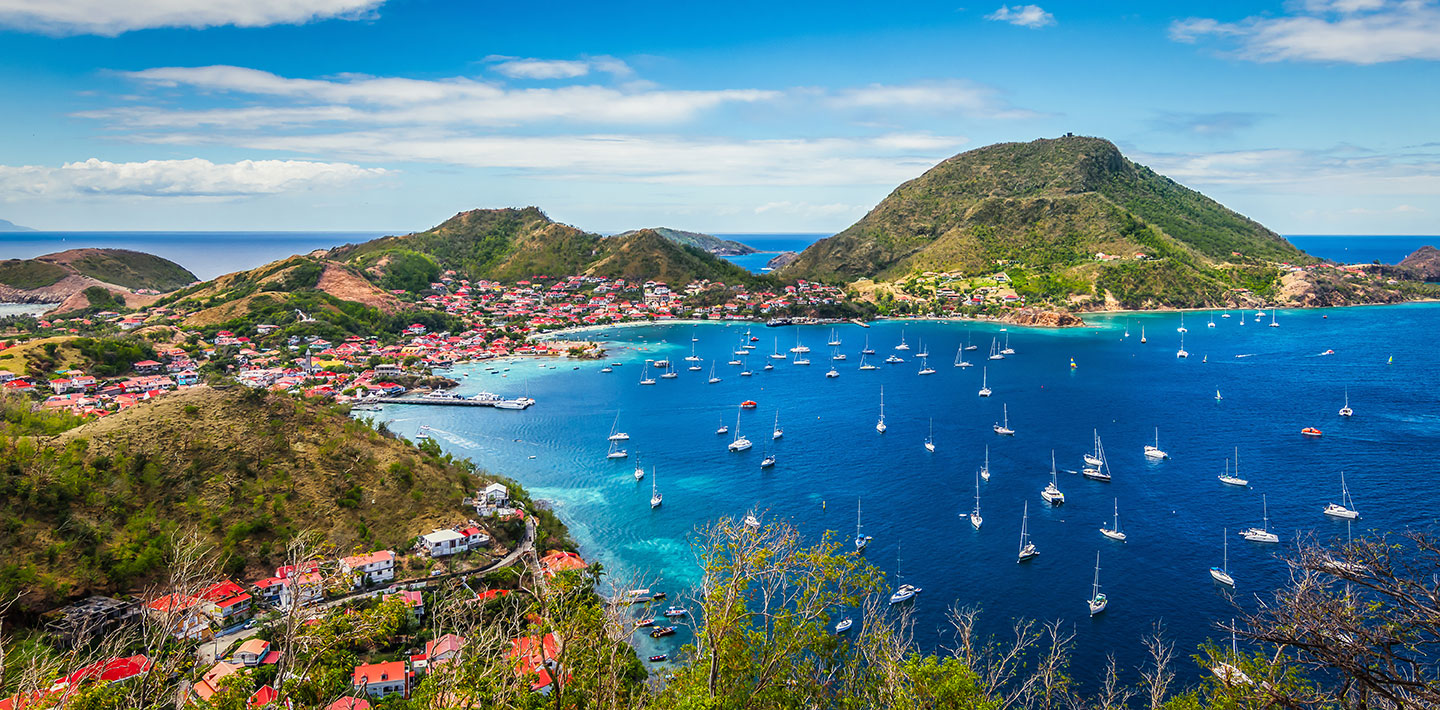 Head for Les Saintes during your stay in Guadeloupe
A crossing to Les Saintes is an opportunity to admire the mountains, volcanoes and turquoise waters. The islands of Guadeloupe will impress you with their breathtaking waterfalls, hiking trails, lush forests and heavenly beaches. Every corner of the islands offers picture-postcard panoramic views. The exceptional wildlife of the islands is not to be outdone, and you'll see this as soon as you get on the boat. Embarking on a journey to the islands is synonymous with adventure. Nothing beats a sunny sail during which you'll feel relaxed and disconnected from the daily grind. Going to Terre-de-Haut is a good idea for your initial discovery of the islands. Tourist activities are generally concentrated in this area.
Taking a boat from Pointe-à-Pitre in Guadeloupe is one of the ways to easily reach Les Saintes. It's also possible from Martinique with the company L'Express-des-îles.
Travelling by boat to the islands of Les Saintes allows you to discover the hidden treasures of this dream destination. You can take several things with you, including your car. Travelling with a child will be easier as you'll be allowed to take the pram and other bulky essentials on the boat. On a safe crossing, L'Express-des-îles ensures your protection and comfort throughout the journey.
A boat trip is a unique experience. You'll walk along the sea and enjoy the exceptional view of the surroundings. Nothing will escape you; even the underwater fauna is visible to the naked eye thanks to the crystal-clear water of the sea. Nature lovers will enjoy the scenery and forests on board the ferry. The views are so beautiful they deserve to be in professional photographs.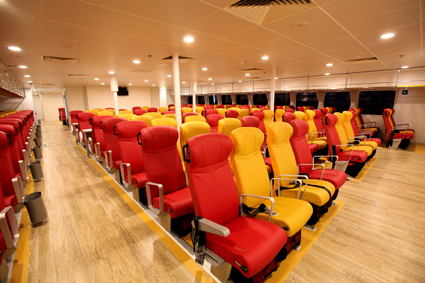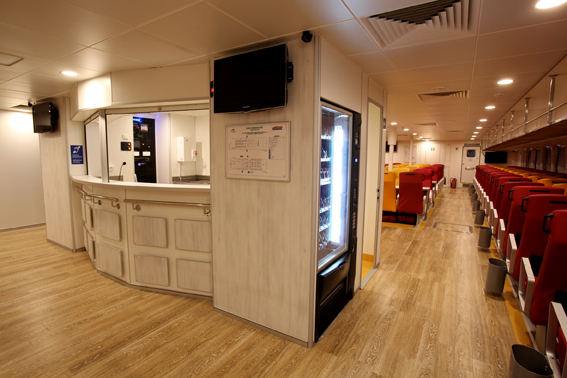 A crossing with L'Express des îles

Our shipping company is able to provide a fast ferry service and is the preferred choice if you're in a hurry to get to the islands. Safety is paramount when exploring the sea, no matter how short the journey is. A high-quality shipping company allows you to carry several items at once. Also consider comparing prices. Generally, a ferry crossing is cheaper than a flight, but this doesn't mean that the service will only be moderately satisfactory.
L'Express-des-îles offers you well-equipped and spacious boats which allow you to travel serenely by day or night. You can even enjoy delicious food on board your boat.
Don't forget you can book your crossing and make your payment online to avoid unnecessary travel.
Don't hesitate!
We're at your disposal for any questions or requests