Head to Les Saintes with L'Express des îles for a day or more!
The most beautiful bay in the world… The prize won by the Les Saintes archipelago is enough to make travelers dream of beauty and breathtaking landscapes. Located about fifteen kilometers southwest of the Guadeloupe archipelago, this picturesque destination attracts many visitors each year. They come and see for themselves whether the description is justified. Find out why you should follow in their footsteps by booking your Les Saintes boat tickets today!
How to get to Les Saintes
Although Les Saintes has a total of 9 islands, only two of them are inhabited and can be visited: Terre de Bas and Terre de Haut. To get there, the shipping company L'Express des Iles offers a weekly rotation every Saturday with a boat from Pointe-à-Pitre to Terre de Haut.
The maritime link between Guadeloupe and Les Saintes benefits from vessels equipped with the latest generation of SeaState stabilizers. They provide optimum comfort for passengers during the hour-long journey. You can also count on our crews to provide you with information and assistance to make your journey as smooth as possible.
WEDNESDAY (since 29/12/2021)
| Departure | Arrival | Time | Duration |
| --- | --- | --- | --- |
| Pointe-à-Pitre | Terre de Haut | 8h00 | 1h |
| Terre de Haut | Pointe-à-Pitre | 17h30 | 1h |
Fare for boat tickets to Les Saintes
The company L'Express des îles offers a range of fares adapted to the constraints and wishes of travelers.
All our rates include 1 piece of baggage weighing 23 kg per person, which is practical if you've decided to stay in Les Saintes for a few days.
And if you want to visit Marie-Galante as well as Les Saintes, the company L'Express des Iles offers a combined package to visit the 2 islands at the discounted price of €40. Leave for Marie-Galante on Tuesday or Thursday before heading to Terre de Haut on Saturday, also departing from Pointe à Pitre. Not a bad idea for travelers who want to make the most of their holiday in Guadeloupe!
Zen
Changeable, non-refundable
Flex
Changeable and refundable
Pass 2 îles
Non-refundable, changeable
3 reasons to book your boat tickets to Les Saintes?
Once you arrive in Les Saintes, you'll be surprised to find that everything here can be done on foot, by scooter, electric bike, gyropod or electric cart, like a golf course! So be careful you don't get hit by one of the silent vehicles which use the island's roads.
As soon as you arrive on the island, you'll also be invited by the licensed cooks to taste the famous tourments d'amour. This culinary specialty and traditional coconut pastry will definitely win you over!
Fine sandy beaches
If you're interested in relaxing on the beach, Les Saintes will surely be one of your favorite destinations. Apart from the beach in the village of Grande Anse, where it's forbidden to swim because the waters are very rough, Terre de Haut offers many other beaches. They're spread all around the island. Absolutely beautiful, they combine the intimacy and wildness of nature left in its raw state. Coves and bays with crystal-clear waters are scattered all around Terre de Haut. Some of the most unmissable are the bay of Pompierre, the beaches of Pain de Sucre and the beach of Petite Anse for its sublime sunset… If paradise exists on Earth, then some places in Les Saintes must be part of it!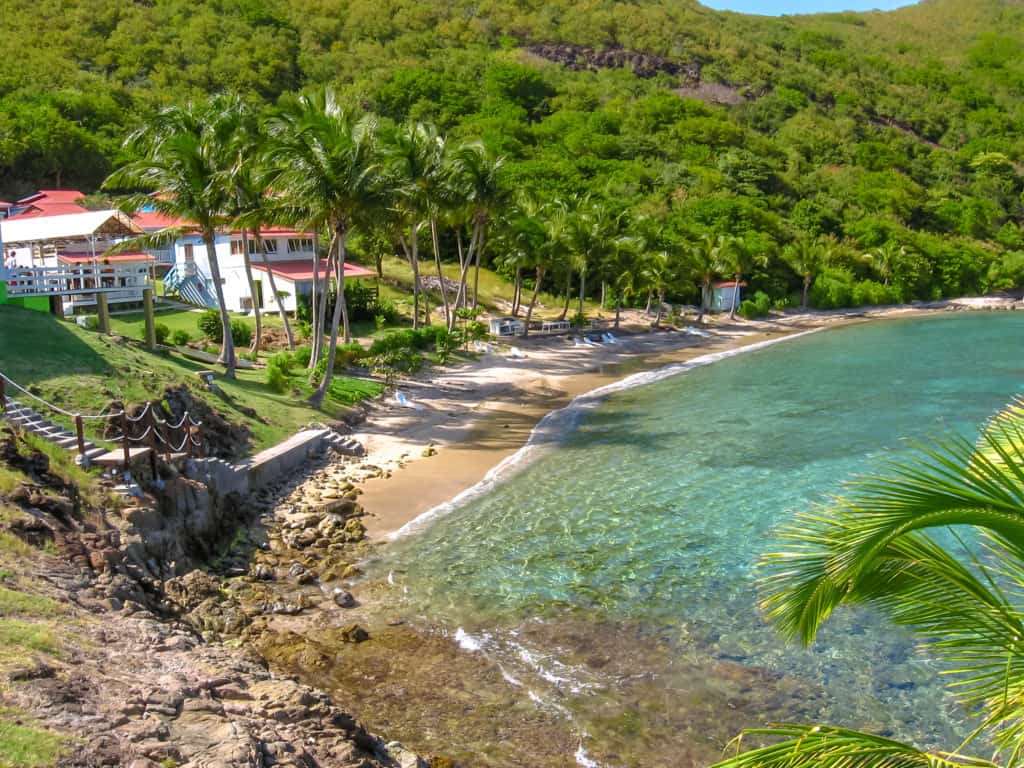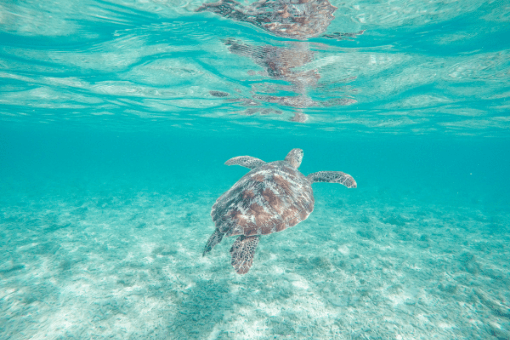 Adventure, in all its forms
If you like water sports, there's also a wide range of activities available. Scuba-diving enthusiasts will enjoy the magical underwater world. Note in particular the area around Pain de Sucre where the waters are known for their calmness. You can also go kayaking, kitesurfing or take a sailing trip.
But if you've decided to go on an adventure like Robinson Crusoe, Les Saintes also has something to delight you in more ways than one!
Climb the famous Fort Napoleon: built in the 19th century, it's named after the emperor who was in power when the last stone was laid, but who never visited. Above all, it offers a splendid view of the Baie des Saintes: you're sure to get some of your best photos here.
The tradition of 15th August in Les Saintes
The Les Saintes archipelago only has a few thousand permanent residents, but every year it's overrun by a crowd of Guadeloupeans and holidaymakers who come to enjoy the traditional festive atmosphere during the extended weekend of 15th August!
Originally a religious festival, it quickly became a civil and republican event. From this point, the excitement is in full swing on the quays of the landing stage where the boats of L'Express des Iles set off one after another. The famous Grande-Anse Bay also welcomes a lot of private sailboats on this occasion. If you're planning to stay here over the Assumption weekend, make sure you plan ahead. And don't forget to book your boat tickets for Les Saintes as soon as possible!