Book your boat ticket to Dominica from Martinique
Escape to Dominica, the most natural island in the Caribbean!
Located between Guadeloupe and Martinique, Dominica is a small paradise on earth which has preserved its wild character. If you want to see the world in its original, unspoilt state, head for this exceptional English-speaking island! With a focus on eco-tourism, it offers travelers a complete change of scenery just a short distance from the other islands of the West Indies… All the more reason to book your boat tickets to Dominica without delay!
How to get to Dominica
If you wish to go to Dominica, the shipping company L'Express des Iles offers regular transport between Fort-de-France and Roseau all year round in just 2 hours by boat. You will arrive directly in the capital where you will find car rental companies and taxis to take you to your accommodation.
The maritime link between Martinique and Dominica is operated 5 to 7 round trips per week by ships equipped with SeaState stabilizers of the latest generation, an air-conditioned main lounge and an open exterior deck if you wish to take the air. You'll enjoy optimal comfort during your 2-hour trip.
You can count on our crews to give you information and you can eat and drink at the bar.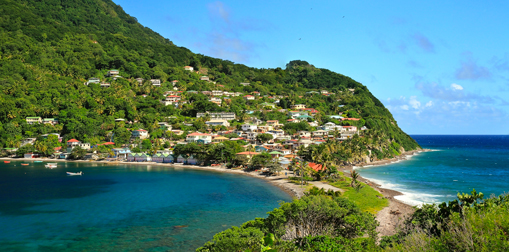 Boat tickets to Dominica from Martinique
The company L'Express des îles offers a range of fares adapted to the constraints and wishes of travelers. If you're flexible on your dates, choose our TOUPITI fare which guarantees you the best rate on the market!
All our fares include 1 piece of hold baggage of 25 kg per person. You can even add an extra piece of hold baggage weighing 25 kg if you need to, at a cost of €20 per item.
TOUPITI
Tuesday and Thursday only
Changeable with fees. Prices for changes: €5 per ticket before departure / €20 after. Possible price readjustment.
ZEN
Changeable, non-refundable
Prices for changes: €5 before departure / €20 after departure.
FLEX
Changeable and refundable
Refundable with 10€ fee per ticket
See conditions and change fees in agencies and in our general conditions of sale.
5 good reasons to buy your boat tickets to Dominica?
This ideal destination, where the exuberant nature makes you feel like Robinson Crusoe, will charm all lovers of outdoor sports, starting with hiking and scuba diving.
Rejuvenate in the middle of a lush jungle in Dominica
With a total surface area of 754 km2, Dominica has some of the highest mountains of the Lesser Antilles, with Morne Diablotin rising to 1447 m. This particular layout has limited man's impact to the coastal areas and allowed the nature to be preserved. And what nature… The tropical forest is exceptional, luxuriant as a dream, so much so that the 6,880 hectares of the Parc National de Morne Trois Pitons have been a UNESCO World Heritage Site since 1997. They're home to some of the most unique flora and fauna in the world, so it's well worth your while to take a boat to Dominica as soon as you can!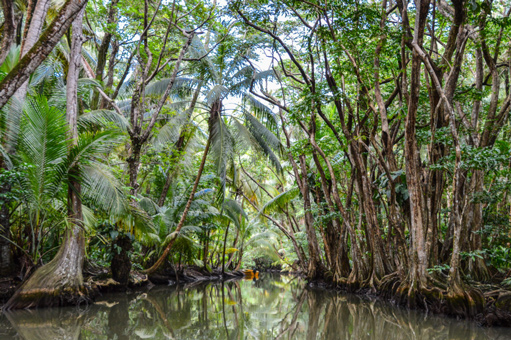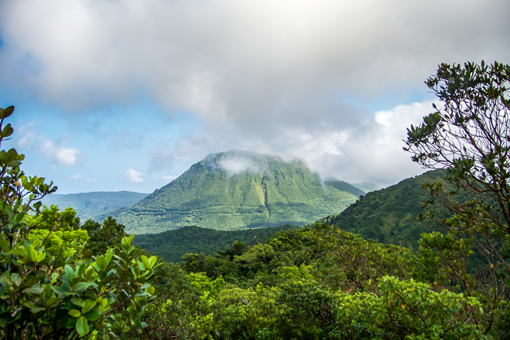 Dominica, a dream destination for hiking
A true hiker's paradise, this picture-postcard destination has nearly 3000 hiking trails! The most famous of these, the Waitukubuli National Trail, totals 184 km and crosses the island from north to south: it's the longest hiking trail in the Caribbean. On foot, mountain bike or even quad bike, you can explore the island at your own pace.
Bathing in nature
If you like to relax on the beach, you probably won't stop in Dominica. Its jagged coastline isn't ideal for that. On the other hand, you'll never bathe in the same water twice here: the island has as many rivers as there are days of the year… You can go boating or kayaking on the rivers, or rafting.
Amongst Dominica's most popular spots are 12 waterfalls which can be used as backdrops for superb photoshoots. These include the twin Trafalgar Falls, which are almost 40 meters high and easily accessible. Another famous natural site is Emerald Pool, a swirling turquoise pool into which a 6m-high waterfall cascades.
Waitukubuli Island also has many natural spas which are a delight for wellness travelers. Of volcanic origin like the rest of the West Indies, Dominica is dotted with pools filled with hot water which is highly mineralized, particularly with sulfur. It's renowned for its health benefits: blood circulation, softer skin, easing of muscle pain, etc. Several sites, like the village of Wotten Waven, offer massages or mud baths. Yet another good reason to come and spend a holiday on the island and book your boat tickets to Dominica.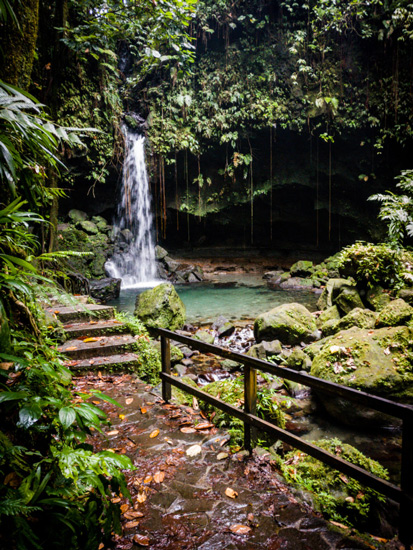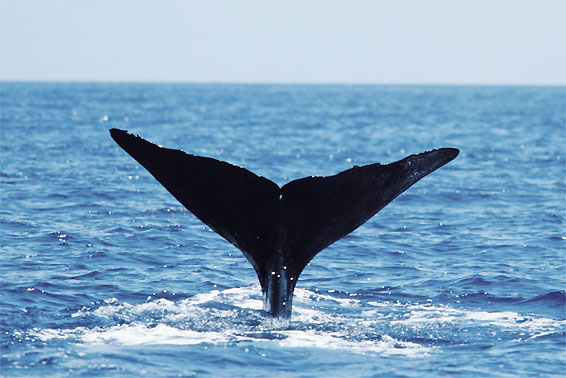 Enjoy watersports activities in exceptional locations
Dominica is one of the few places in the world where cetacean watching is possible all year round. 22 different species of whales and dolphins can be observed in the very calm and deep waters of Dominica. They're even easier to see between October and March.
Snorkelers and divers will find some of the most beautiful spots in the Caribbean in Dominica. The coral is still in good condition because this sport is practiced while respecting nature. It's not uncommon to be dazzled by a myriad of multicolored fish. One of the most impressive sites is the Scott's Head Peninsula where the Atlantic Ocean meets the Caribbean Sea.
It's not surprising that these exceptional landscapes caught the eye of the producers of "Pirates of the Caribbean" who shot several scenes of their series there!
Living to the rhythm of the music
One of the highlights of the year is Dominica's Carnival, one of the most authentic in the Caribbean, which takes place in February, when groups in traditional costumes parade and dance through the streets of the capital Roseau.
But it's particularly during the World Creole Music Festival that Dominica comes alive: for three days in October, musicians from all over the world pay tribute to Creole culture and to the typical rhythms of the West Indies: bouyon, zouk and merengue. The growing reputation of the festival means that we recommend that you book your boat tickets to Dominica in advance if you plan to attend the next edition!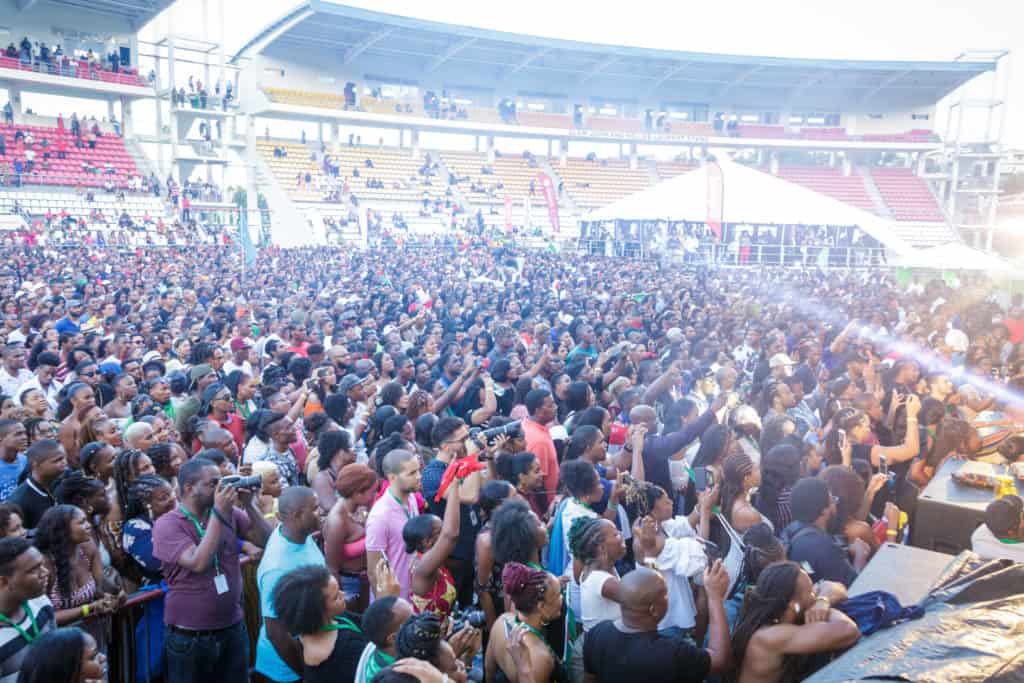 Crowds at the World Creole Music Festival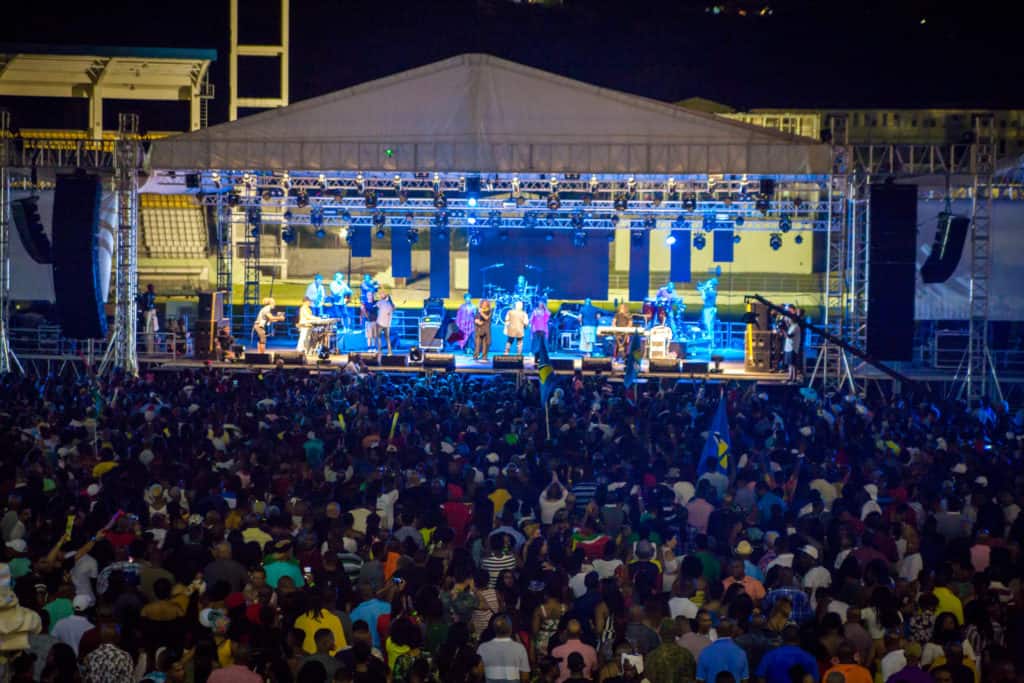 The World Creole Music Festival stage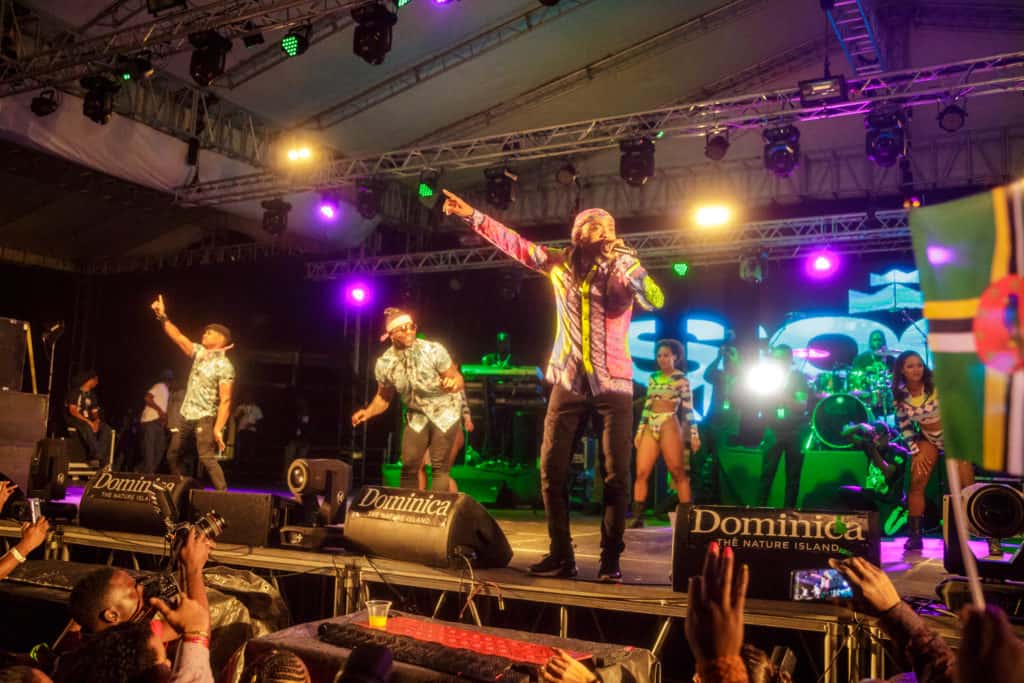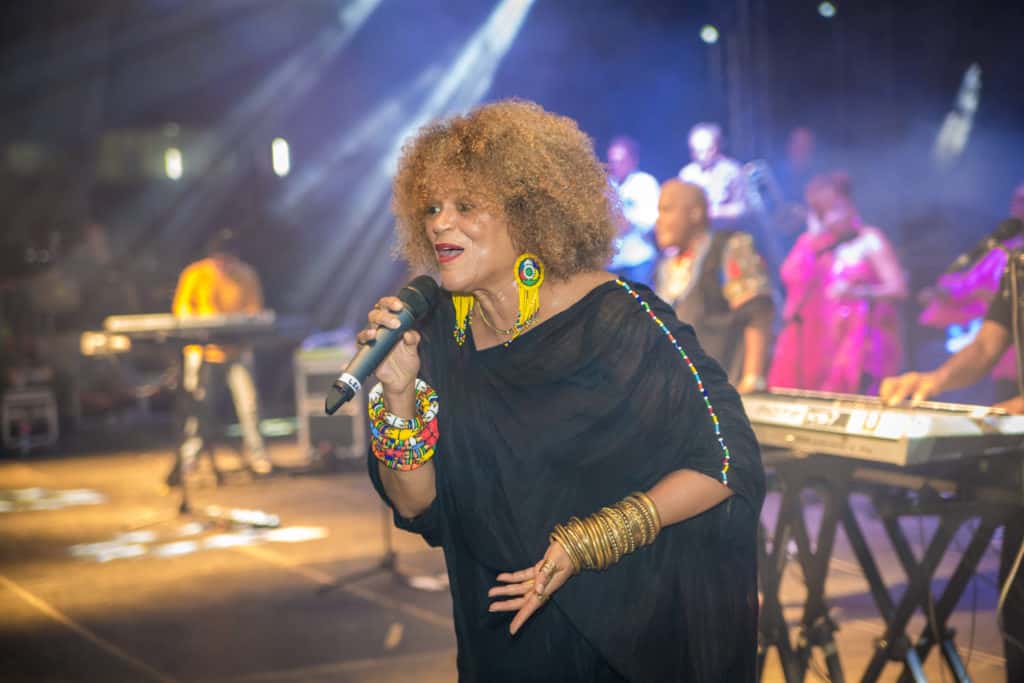 Jocelyne Béroard at the World Creole Music Festival